Cross Magnetic Bracelet Luxury Stainless Steel Bracelet
Product Description -
​Are you experiencing any of the following issues?
Joint Pain, carpal tunnel, tennis elbow, tendonitis, repetitive strain injury (RSI)
Pain and inflammation in the knees, shoulders, arms, wrist or hands.
Poor circulation associated with diabetes; cold hands and feet.
Difficulty sleeping, anxiety, migraine headaches, fatigue, or stress
 Wear this bracelet to empower yourself!

STYLISH DESIGN
A classic stainless wristband with well constructed, engraved the cross on the middle band, as religious symbol to express your faith.
It's unique look easily matches with all kinds of clothing, watch and accessories. Suitable for all occasions:-banquets, daily life, vacations, parties.
Adjustable bangle can fits most adult's hand.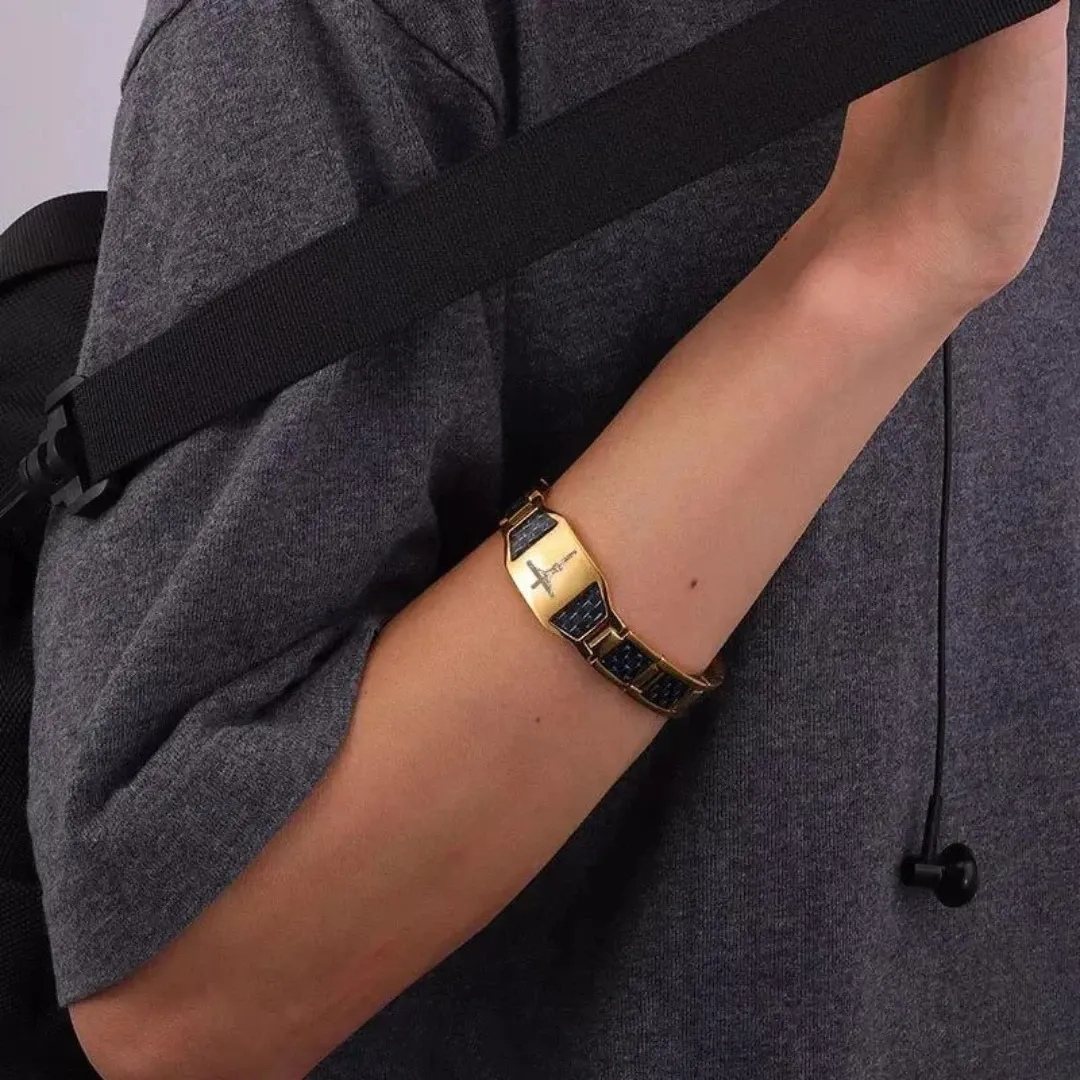 EXTRA STRONG high powered 3500 Gauss Magnets helping to relieve the symptoms of arthritis and carpal tunnel. These are the strongest magnets available, much stronger then any other magnetic products on the market!
   Helps Your Body To Help Itself with 
MAGNETIC THERAPY
Reduces inflammation, alleviate pain, and improve blood circulation.
Lowers stress & anxiety and improve sleep.
Enhance overall well being. Keeping you energized and balance.
Please note:
Do not use magnetic therapy if you have a pacemaker, defibrillator, or any other implanted electro-medical device, or if you are pregnant
MATERIAL & PRODUCTION-
Size: 8.27″(21cm) adjusting tool (FREE) allows you resize the comfortable the length at home it takes just a few minutes!
Package: 1 x Bracelet
Material: Stainless Steel
Weight: about 85g
100% HYPOALLERGENIC: This metal bracelet is made of premium Stainless steel, lead & nickel free, will not irritate your skin.
SHIPPING INFORMATION +
Orders Ships within 72 hours.

Please allow 7-10 business days for your order to arrive.Orders must finish processing before they are fulfilled. All custom items are made to order. This means sometimes your order may take a little longer to ship but it's always worth it!

Need to Return?, Need to return? Simply contact us flosica@hotmail.com

Returns, Refund and Exchange Policy +
HOW CAN I CONTACT YOU?
Our customer service email is flosica@hotmail.com


You can also reach us through calls and sms from 9:00 AM - 5:00 PM Monday to Friday

WHEN WILL I RECEIVE MY ORDER?
Most of our products take 7-10 business days to arrive once shipped. Our products are made to order, please allow 72 hours to ship.
WHERE CAN I TRACK MY ORDER?
As soon as the product is shipped out, you will receive and email from us with the tracking information and other details pertaining to delivery .
WHAT IS YOUR RETURN/EXCHANGE POLICY?
If you are not satisfied with the product, let us know and we'll do our best to make it right You can send an email to flosica@hotmail.com
. We cannot accept returns of medical/health related items.
DO YOU OFFER REFUNDS?
Yes! We offer refunds if you meet the following:
(1) Items must be sent in the same condition as you receive using our return label that is provided by our customer service rep.
(2) Email us at flosica@hotmail.com
(Name, Order Number, and any information of why you are requesting a refund) We have a 30 day money back guarantee with a 30% restocking fee. Once everything is complete, we will process your refund and it make take 3-5 business days to process through your bank.
HOW CAN I CONTACT YOU FOR ANY ADDITIONAL QUESTIONS?
Email us at flosica@hotmail.com
We will got back with you within the next 24-48 hours on average.